Walkoff win, y'all! WALKOFF WIN!
Man, who doesn't love a walkoff win? I don't like to be all complacent but how many of you figured we'd probably have a walkoff win in the 10th? Maybe not a walkoff homer (although everyone thought there'd be a game-tying homer when Giambi got up, huh?) but it's pretty hard to give up on this team in the final innings anymore.
WALKOFF WIN!!!
Here's the video.
Usually offense goes at the bottom of the post but I can't wait! See here now! (Also: Carlos cut his hair!)
There were 30k fans at the ballpark today, I guess. Only 22.3k marked as paid but apparently 8k more came through with their rainout tickets from way back (actually Shapiro says 12k were free and 30k were there and MLB says 22.3k paid so I can't follow this math anymore). Since there were fireworks afterwards, I hope everyone stayed to watch the big win!
I know this guy was there, at least after Kipnis's sac fly in the 9th to tie the game:
I wonder if he's from Michael "Dr. Smooth" Brantley's gang? Mr. Cool?
So, pitching-wise we got another good start, this time from Corey Kluber. Yeah, yeah "almost lost", "lost the lead" etc etc. But really the story here is "one bad inning" or even "three bad pitches." Kluber was gravy until the 6th, where he gave up 3 runs on 4 hits. Then there was a talk with Mickey Callaway and he got out of it. And there were no more runs until he left the 9th with 2 outs and, surprise, the reliever gave up one of his runners.
So you get rid of those 3 hits in the 6th and all of a sudden Kluber has an 8 2/3 inning game with 6 hits, 6 strikeouts and 1 earned run. Sounds good to me. And even tho he DID give up 4 runs, well, our team averages 5 runs per game so -bully for us!
Kluber only had 95 pitches when he was pulled with 2 outs in the 9th. Viciedo was up and Francona didn't trust that Kluber had his number - Tito thought it might have been the other way around. Francona admits that he was wrong (which you can do when you are the guy who makes the mistake but the team wins anyway!)
I think the default answer to "should we bring a reliever in?" if there is any question, at least this season, is NO, DON'T!!
Cody Allen came in and gave up one of Kluber's runners plus one of his own. Crazy, man - Allen has been pretty solid for us as of late...well uh except his next-to last outing against Texas where he did give up 2. But in 10 appearances, only 3 runs. Ok, that's a lot of runs. Dangit, Cody!
Wow - 4 appearances in 5 days for Chris Perez? I LOVE IT! And - he won/saved all those games! Tonight he was 1-2-3-4, meaning that he got 3 outs and also hit Adam Dunn but Dunn is a very large man. He gets in the way sometimes. Perez got his 4th win of the year!
Here he is being happy and joining in the fun at home: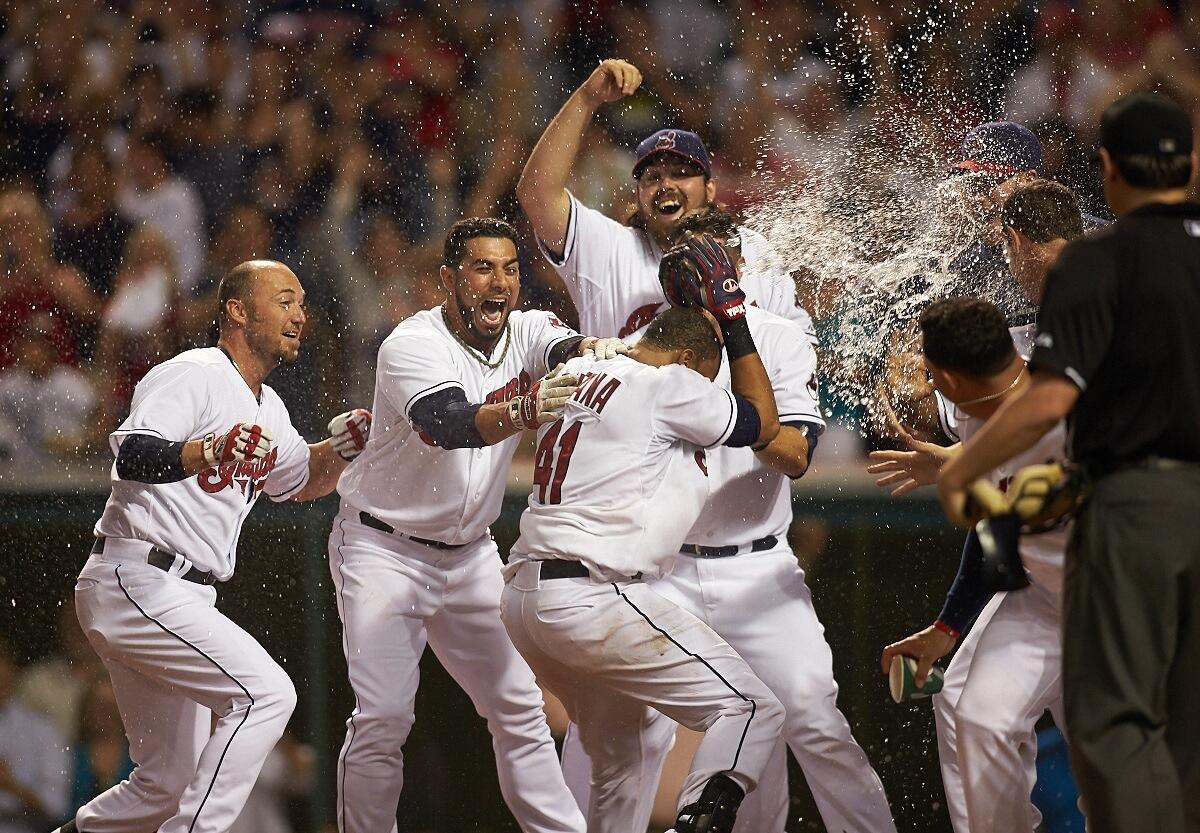 Yay all of us!
Tito cleared our bench today with pinch hitters and runners, trying to get ahead. Although we cruised into the 6th with a healthy lead,
baseball
happened and we were tied after that. In the 9th we were behind by 2 but then the
INDIANS
happened and we came back to tie it, and won in extra innings! W00t!
Tito on tension in 9th: "I love it. . .you're so damn nervous, you know you have a chance to win, but you don't know how." #Indians
— paul hoynes (@hoynsie) August 1, 2013
Michael Bourn led off the game with a double! It seems like he gets a healthy amount of first-at-bat hits this year. Let's see...according to the splits he's batting .278 in the first inning - 20 for 72. So, not bad. One stat that jumps out at me, though, is he is 4 for 6 with bases loaded. Wow! Bourn came around to score after that double, on some heads-up running on a throwing error. Once again the Tribe is scoring first!
Swisher went 2 for 3, and they must be scared of him because he walked twice - once intentionally to load the bases in the 9th.
Load the bases up on Kipnis? Well, all right Robin Ventura. Take this sac fly and stick it up your nose! The game is now tied!!
Kip didn't get any hits but he was a crucial part of the game, with that sac fly in the 9th and also with the ground out in the first that ended up scoring the first run. Anything to win!
Droobs was a big disappointment today. Like, super sad that he didn't do ANYTHING to help in this excitement. He wasn't even part of the double play. Sigh...just one of those nights I guess. A Swisher kind of night.
Carlos Santana hasn't hit a homer since July 7. He only had 11 RBI in July so far. I can't tell if he's on his way up, or on his way sideways or even on his way down. But all that mattered was that tonight he went 2 for 5, with a double and a homer, and 2 RBI. The winning RBI, a walkoff homer.
Santana HR'd on 3-2 pitch, not 3-1. Santana: "He called the 3-1 pitch a strike, but it was a ball. So I hit a home run on the next pitch."
— paul hoynes (@hoynsie) August 1, 2013
Haha! I love that stuff! The revenge homer!
Aviles was in at 3rd tonight. He went 1 for 4, and was part of that double play!
Michael Brantley is like woah. Three more hits tonight, that's 11 in his last 9. It drives me crazy that he's not hitting over .300!! It feels like he should beeeeeee! Tonight he went 3 for 4 with an RBI and a run scored. Two of his hits were doubles. Dang, Cousin Michael you just have the spirit in you right now!!
Reynolds was a real gem at first base today, which is nice to see because you don't want a guy to just be plain failing at baseball. If you're going to give him a chance to stretch his legs and see if he can hit, it's just too sad to see him falling on his butt in the field. But he made some really nice plays at first, including
this one
that required a little athleticism.
Dude went 0-3, though, so they put in Giambi in the 9th to come in as the tying run and everyone was like "yeah do it again!" but Giambi got hit by a pitch (see Adam Dunn, above). Chisenhall came in to run for Giambi and he's the one who scored the tying run. Raburn came in to play 1st for the 10th.
Let's talk about Drew Stubbs, who is one of those guys that they say "oh he's so fast." A lot of guys they say they're fast. Like Ezequiel Carrera, even Michael Bourn. And they are. But it seems like Drew Stubbs not only is fast, and knows he's fast, but he's also smart. He seems to know what it takes and keeps ending up in these situations where his speed is making a difference.
He did it again tonight in the 9th by beating out a bunt for a single. That loaded the bases with no out and 2 runs down. It was nearly a given that the Tribe was going to get those two runs to tie the game on sac flies (it was almost literally the least they could do at that point) and it could not have happened if Stubbs hadn't beaten out that bunt!
He's for every one of us!
One to nine, man - that's what it takes!
So we've won 7 in a row, won 6 of a 10-game series against sub-par teams, won 2 series in a row (so far) and have had 3 walk-off homers in the last 6 nights.
ARE WE HAVING FUN YET?!
Whew, this is just too cool. I'm starting to get excited that this team is a major playoff contender. If only it weren't for those pesky Tigers! (If the playoffs were today we'd be the second wildcard.)
Tomorrow's game is an afternoon dealy, with Masterson versus their good pitcher, LHP 2.69. It's going to take a lot of muscle to either make it an easy win or get yet another scraped-together win. But I'm really loving this streak so I would take a win either way!
It'll be 12:05 so see you there!
Radio Chatter:
"The Yankees deserve everything they get. They're the ones that gave him that contract."
- Tom Hamilton on A-Rod

"[Umpire] D.J. Reyburn wants Cody Allen to put it on a tee."
- Tom Hamilton on bad calls in the 9th

"Boy this place was rocking a minute ago. Now it sounds like St. John's Cathedral down the street on E. 9th."
- Tom Hamilton in the 9th

"On this last day of July, if they rally to win, this one goes to the head of the class."
- Tom Hamilton

"Herbie's got the best seat in the house tonight, and he's watching that with arched eyebrows."
- Tom Hamilton on what he thinks Herb Score would think of walking Swisher to load the bases for Kipnis