So this game was sort of messy, sort of confusing. The White Sox seemed confused, the umpires seemed confused. Even the Tribe bats sort of seemed confused. In a game where we should have been whompin' a much worse team, we were scrambling for hits and only managed to get 4 of them. We needed some help!
Just say the magic words! "Mecca lecca hi, mecca hiney ho" or, "Have a sear, Reynolds. You're up Giambi!"
Zach McAllister was the starter today and he did what his friends are doing and what we need him to do: Go long, low score. He managed 7 innings and just 2 runs for the team's 5th quality start in a row!
He only threw 90 pitches, so I'm not sure what was up with taking him out in the 7th. I guess since our guys were not getting the hits we needed more shut-em-down power out there. Allen only struck out 2, but he only gave up 5 hits and 2 walks.
The answer, I guess, was Cody Allen and Oh No Not Rich Hill.
Yeah, Cody Allen and Rich Hill were the guys who were going to save us in the 7th. But Cody Allen is perfectly good and if he doesn't leave guys on base (he didn't) then Rich Hill can strike out a lefty (he did).
Then is Chris Perez who has been dominant lately. He's got nothing to do but focus on his pitching, and is taking it way seriously. He's back to being a top-notch closer for us! Today he did give up a hit but that's nothing compared to a lot of the stuff we've seen him do out there. Hit, no prob! He got his 3rd win today. I also saw him looking incredibly jovial and team-spirited at the end of the Giambi
home run clip
, so at least we know he's still got his mellow.
Not much to report on the offensive side of things tonight. Kipnis was the big man with 2 hits, going 2 for 4. No runs or RBIs off that.
Cabrera and Santana both got RBIs with no hits! (See: confusion) Santana's was a sac fly and Asdrubal hit a bases-loaded GIDP which ended up not being a DP due to some hustle by Kipnis. But still Cabrera was out, but a run did score.
Santana had a nice pickoff at second, which ended up being called safe. Because....confusion.
Ryan Raburn had a double because he's awesome!
Blah blah blah blah - Jason Giambi, off the bench in the 9th for Mark Reynolds. Batting .194 but whatever - he hasn't fallen as far as Reynolds.
I'll steal some pics to show you: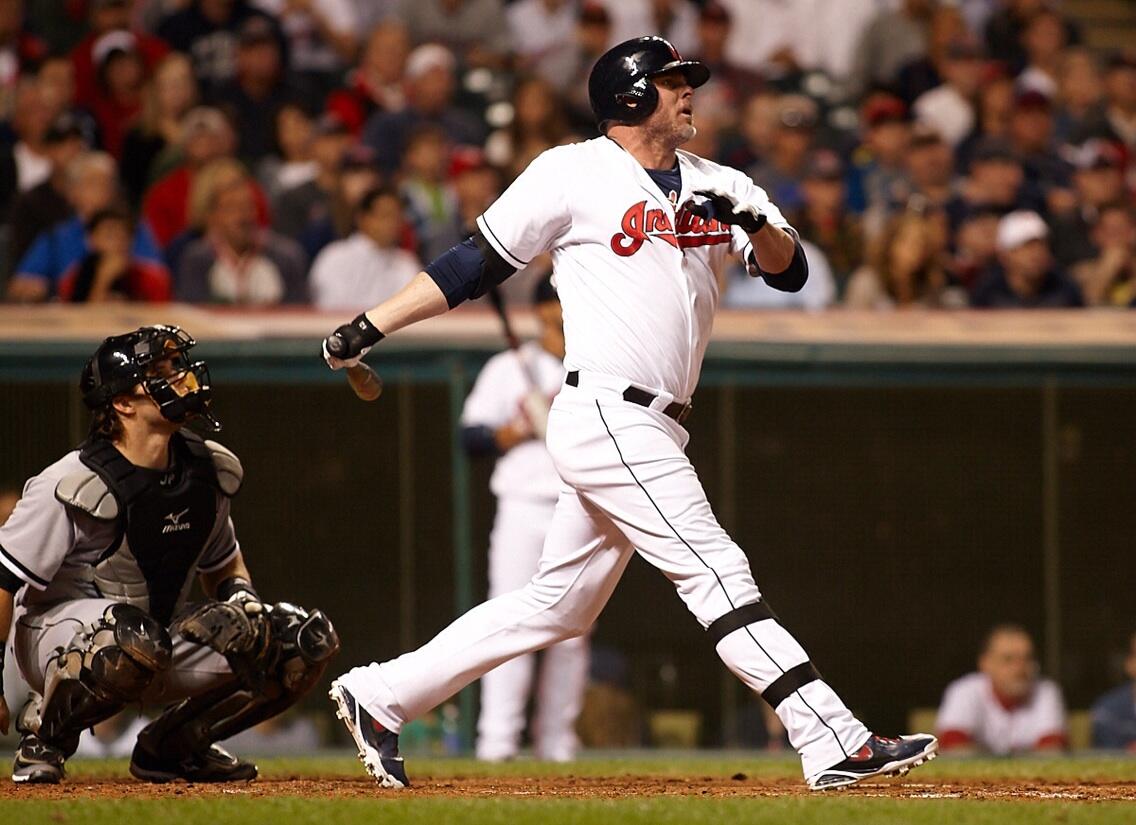 A big swing!
Spider-Vinnie follows it over the fence.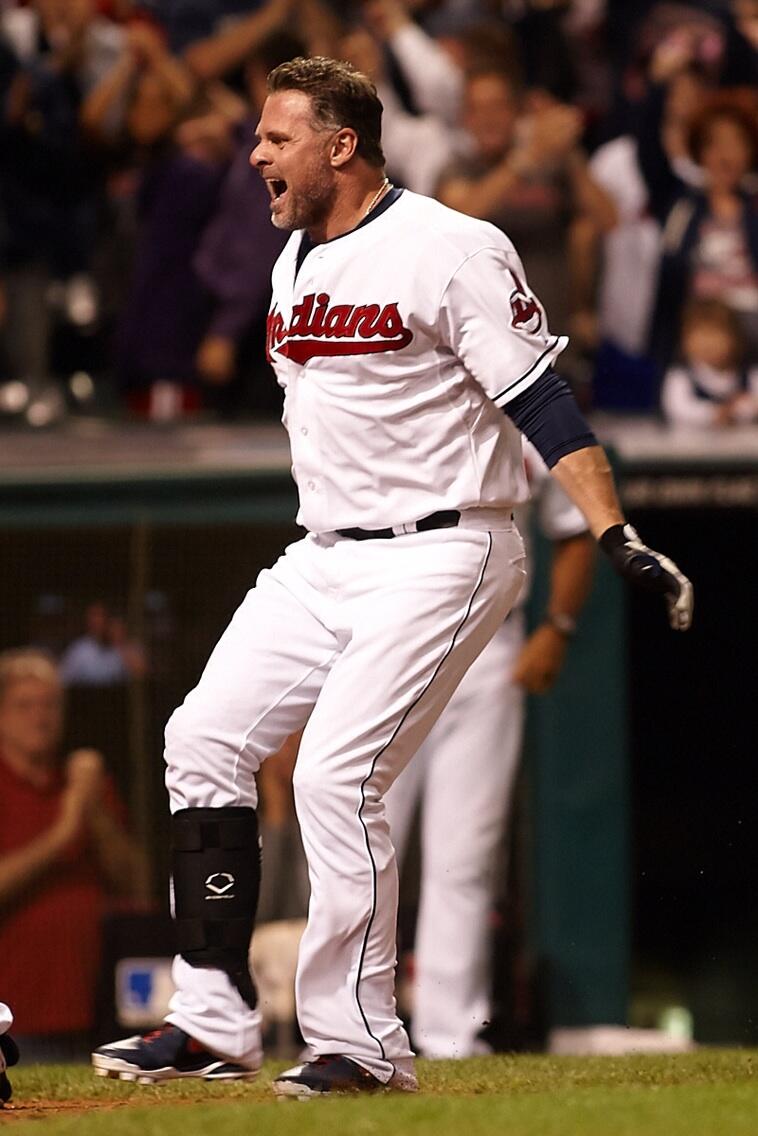 Get ready for your mobbing!
A big ol' gorilla hug for Tito!
So that was pretty fun. We sure do love our walkoffs in Cleveland! And our old guys, too. Giambi is the oldest guy to ever hit a walkoff homer. Previously it was Hank Aaron in 1976. Also:
Since Progressive Field opened in 1994, the Indians have more walk-off home runs than any team in baseball.
— Zack Meisel (@ZackMeisel) July 30, 2013
Here's something interesting...during the home-plate-mobbing-mele, Giambi had a big long hug with Swisher (who jumped up on him) and Kipnis had to awkwardly
wait in line
to hug Giambi, then it turned into a threesome. And Kipnis kind of called him out on Twitter:
Oh and @NickSwisher.. If you steal my Big Papa G bear hug again... There will be consequences and repercussions #hellyaiwantmycornbread
— Jason Kipnis (@TheJK_Kid) July 30, 2013
Now, I'm
sure
Kipnis was just messing around and nobody is actually hurt but man - what a douchebag that Swisher is! I wonder if all the dudes are totally tired of him now, like I am? Heh.
Anyway - sloppy win tonight but at least it was a fun one (at the end). And a W is a W, as long as we have the balls to back it up come October! Do you think we do? I'm becoming more and more convinced that we have a SHOT but it's not a lock. I'll have fun watching, though!
Tomorrow is the 2nd of 4 against the White Sox at home, and it'll be Scott Kazmir versus either Jake Peavy or a player to be named later! We're up 4 games now in this 10-game series against crummy teams - do you think we can take the next 6? Looks like the team is up for anything!
It'll be at 7:05 tomorrow - see you there!
Radio Chatter:
"Viciedo thought he was Roberto Clemente and tried to throw him out [at the plate] on the fly."
- Tom Hamilton

"Raburn's not happy. He never shows it but you can tell."
- Tom Hamilton

"Robin Ventura is still playing like they are in contention."
- Tom Hamilton on pitching changes

"This is the kind of game, Rosie...there isn't too much flow or rhyme or reason to it, but you have to find a way to win."
- Tom Hamilton

"Adam Dunn handles ground balls like they're live grenades."
- Tom Hamilton

"I guess that gives him a little more deception and it gives us all a better look at his posterior. If that's what does it for you then good for you."
- Tom Hamilton on Ramon Troncoso's pitching stance