This post is brought to you by Michael Brantley and rap artist Drake, whose song "Started From the Bottom" is Brantley's at-bat music. It's a fantastic backdrop for the party after today's game.
"Started from the bottom now the whole team here!" Where? First place, y'all!
So today's game, as a whole, was neither very gripping nor very tight. Jim Rosenhaus posited in the 9th that the team looked pretty sloppy in the first 7 or 8 innings, then got their stuff together just in time to pull it out at the end. And I think that's pretty important! You definitely want your team to be able to dominate through 9 innings but you REALLY want your team to be able to pick themselves up and dust themselves off after a rough 8 innings to come back and get that W after all!
Zach McAllister was the starter today, and he had a quality start! He went 6 innings and only gave up 2 earned runs. He struck out 5 and only walked 3! He did give up a homer but...well whatever. Quality start and only 2 earned runs against the best hitters in the game...LIKE!
They played more bullpen roulette again today and still that is totally fine with me. Match arms with bats, whatever. Plus it was cold so you gotta use who is ready, willing and able.
Bryan Shaw was back to being tight today and he went 2 innings without giving up one hit OR walking anyone! He's like our secret weapon - his ERA is 1.04! Those are #BullpenMafia numbers for sure!
Next was Joe Smith who did the setting up in the 9th (it was tied at this point...) and got himself the win. Do you know what his ERA is? It's .66 is what it is. POINT. SIX. SIX. He doesn't lead the league but he's like #4 for relievers. It's so freaking awesome to have guys in there to keep up where Vinnie left off, and be there to see-saw with Vinnie so as to not burn either one out.
Smith was awesome, with a 1-2-3 inning facing both Torii Hunter and Miggy. Like nothing! Ok not like nothing. He almost ------ himself in the --- throwing wide to 2nd after a come-backer to the mound. But Asdrubal is even more amazing than Smith and he took care of him
BIG TIME
.
The Tribe got the go-ahead run in the 10th, but Chris Perez didn't come out for the bottom of the 10th. According to reports he just didn't feel right and was honest about it (some weirdness in the shoulder). Team player or what?! Plus he knows we've got the bullpen to pull it off without him anyway, if we need to.
They brought out Rich Hill, who was a good choice I think. A veteran, you know? His task was to face Prince and V-Mart. He made them look like boring, every-day players just like Smith had done with the other two kitties.
With two outs, the Tigers pulled their lefty for a rightie and the Tribe followed suit. Cody Allen started slow then threw three 96-MPH strikes by the guy. BALLGAME!
The story of the bats today is not the most exciting. Only 5 guys got hits and 12 of them came up to bat. They did get 7 walks, though, three doubles and a stolen base!
Michael Brantley was back at the top spot, as the plan is to re-introduce Bourn slowly. Why rush it in May, right? Brantley went 2 for 4 with a walk today, giving him 4 hits in the series. He got the
tying RBI in the 9th
, because Michael Brantley never gives up! There were 2 out in the 9th and he was facing Valverde who had yet to give up a hit in 5 IP. Brantley was wearing shades and a pink necklace, and smacked one past Jhonny, as easy as you please.
Whatevs.
Jason Kipnis was pumped for today's game, too, after last night's performance when Acta's little Dirtbag got himself all dirty. In fact, he was on fire for today's game!
Seriously tho, he went 1 for 4 with TWO RBI which is half of the RBI gotten today! His only hit was huge - a two-run double in the third. That gives the Kid 12 RBI in his last 10 games. Wow!
Check out this pic of Kip and his mom: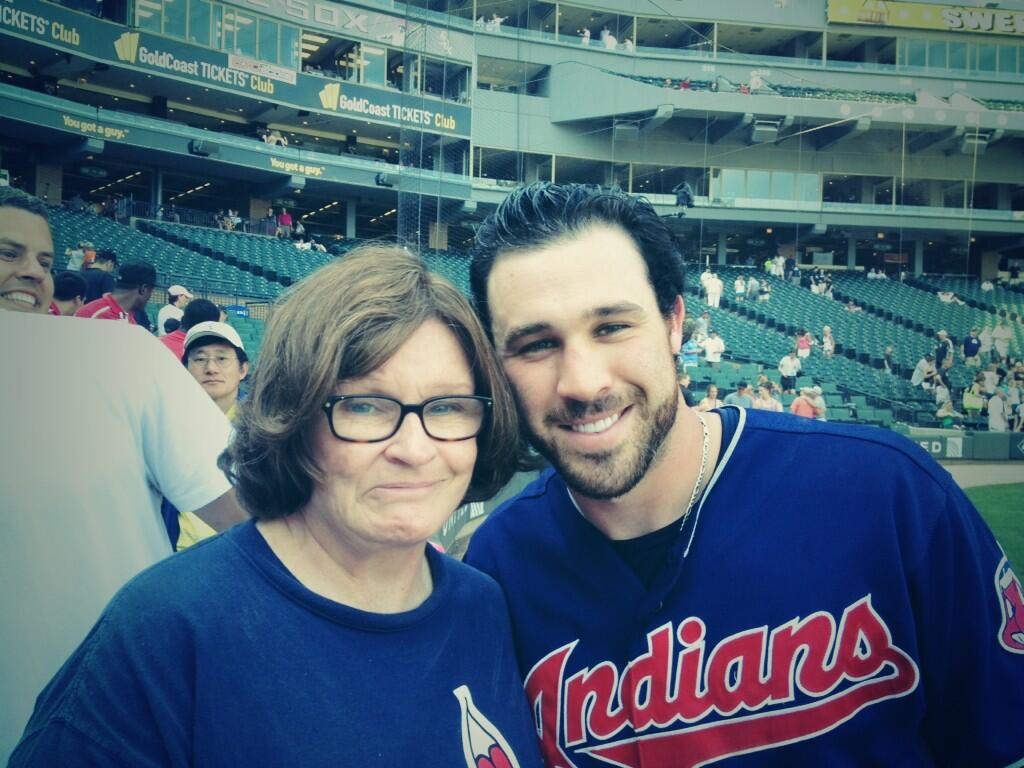 Adorkable!
Does his mom totally look like your mom or what? Go midwestern moms!
OMG ASDRUBAL!!
Did you watch his play yet?
Him and Kipnis have been wowing us in the middle infield this weekend. They made TWO double plays today, even. Asdrubal went 1 for 4 with a walk, but he wasn't involved in any runs. No strikeouts, though! His one hit was a double in the 10th, and he did try to come around and score but it didn't happen.
It DID happen for Santana, though. Santana went 0 for 4 with a walk. I think that makes it something like 15 games in a row now for being on base? And 27 out of 30 games with him safe on base? He was intentionally walked today - I wonder if that counts the same as a regular walk when one talks about "on base"? (It is in fact a separate stat in one's stat line) Anyway he came in to score from second to WIN the game!
Ryan Raburn was in the game today and he sorely needed to do some damage at the plate to shut those stupid Tiger fans up. They were booing him! He got hit by a pitch and they cheered! Daym that's cold, Detroit.
Michael Bourn came in for Raburn in the 9th, and walked. And stole second. And scored the tying run! Hey, well done Michael Bourn!
Lonnie Chisenhall still isn't good right now. But he did give Mark Reynolds a chance to keep warm and keep rested on the bench all game then come in and get the game-winning RBI single in the 10th. So, well done Lonnie and well done Reynolds!
Reynolds was the only Indian wearing the pink cleats today. You can't really offset a beard with pink cleats. Nothing offsets a beard. The pink cleats did nothing to slow him down!
Hey, don't forget about Yanimal! Gomes was in at catcher today, which is maybe how the kid McAllister kept it together against this Tiger offense. Gomes also got 3 hits! One of them was a double, and the others were singles. He came across to score the first run of the game.
So that's it. All that little stuff added up to one big, big win! This is our 5th series win in a row, so they were saying, and that is some sort of record. But it's hard to say because 5 series ago we split with the Royals in a 4-game series, and 6 series ago we haven't finished with the White Sox yet. And what does it mean if we beat the Yankees tomorrow?
Nevermind, it doesn't matter. The Tribe is coming home from the road in first place! Tied for first, yes but first place with a record well over .500. I'M LOVIN IT!
So tomorrow is the traditional double header versus the Yankees, and I will be there! I got my tickets and I got "OMG ASDRUBAL!!" all tidied up with a fresh coat of paint. Look for me waaaaay up top in the All You Can Eat seats. Hmm maybe I need to fish out my dad's old binoculars?
The first game will be at noon, Masterson versus RHP 5.02 (as if!) The second game will be 20 minutes after the end of the first one, with special guest star Trevor Bauer versus some guy with only 3 innings of MLB work this year. Sweet!
Let's keep this #ROLLTRIBE going! See you there!
Radio Chatter:
"I don't know if Taco Bell is appropriate for a Mother's Day meal..."
- Tom Hamilton ribbing an engineer for taking the morning off

"Then the Tigers started winning and people don't miss Tiger Stadium anymore."
- Tom Hamilton

"You can start the runners - well they're not really runners, they're lumber-ers - because Victor Martinez will probably get the bat on the ball."
- Tom Hamilton on Miggy & Prince as runners

"Chisenhall was like 'You know what, if I get thrown out at third, I might have to keep running to Columbus.'"
- Tom Hamilton on Yan Gomes' single in the 7th

"He's got one of those builds that makes you go 'Hmm, I bet he eats bacon on a lot of sandwiches.'"
- Tom Hamilton on Joaquin Benoit

"Somebody's bullpen will be the difference here today."
- Tom Hamilton

"Allen's a guy that's got closer stuff."
- Tom Hamilton