Extra baseball! It was a weird game today, because it's been a while since we had a good battle with another team, going back and forth with the scoring. And also been a while since we as fans felt the team could pull off a late-inning win. I mean, we've done it a couple of times this season but this time it wasn't just blind hope we were following. This time it was statistics!
And, of course, Meryl Masterson's good luck charm.
You mean good luck CHARMING!
Justin Masterson was the starter today and he actually was not that good! This would be his third
bad
unfortunate game in a row now. Sucks because his first few games were things of beauty. Today the best thing about his outing was that he saved the bullpen by sticking it out for 6 2/3 innings. Otherwise he gave up 5 runs including a home run. He only walked two and he struck out 5, which is par for the course for Masterson. He did get out of a lot of jams, which is also his thing. But he just stayed a little too long on that luck.
Oh well, though. He's legit, he'll bounce back. I don't see Masterson getting bad and staying there. And, hey - he finally has run support!
Cody Allen came in to finish off the 7th and gave up a 2-run homer, one of those runs going to Masterson. Boo! That homer included the go-ahead run. BOOOOOOOO!! But then he had a 1-2-3 8th inning, so uh, what else can you ask for? Oh, well he also came in for the 9th, and gave up a single, at which time Terry Francona asked nothing more of him than to get off the mound.
Rich Hill finished off the 9th by getting rid of Mauer, Morneau and the Twins' DH, so nice job Rich Hill! Things could have gone pear-shaped from there!
Chris Perez came in for the 10th, not in a save situation but he held tight and ended up with the win. He did what he always does - gave up a hit, struck a guy out then got 2 pop-outs. He also threw in an extra walk for our amusement.
Batting was cray-cray today. Because the guys we were expecting to break forth and keep up their great streaks from the rest of the week were kind of quiet today. Yet they got 13 hits and 5 walks! So, who was it?
Michael Brantley is quietly being awesome again, for the second season in a row. He's got a 5-game hitting streak now, going 1 for 4 with a walk and a run. He's hitting a legit .300!
Kipnis, who was quiet last night, got back to "being back" and went 2 for 4 tonight, with, uh, FOUR RBI!! He got this
sa-weet 2-RBI triple
in the third to tie the game. It was awesome because the first two innings I wasn't really feeling it...but then we got 2 hits to start off the third and I was reminded that this is our reality now! Putting hits together and scoring runs. Could I expect something great? I COULD! And it happened! Kip's first triple of the year - how cool is that?! Dude's up over .200 now too.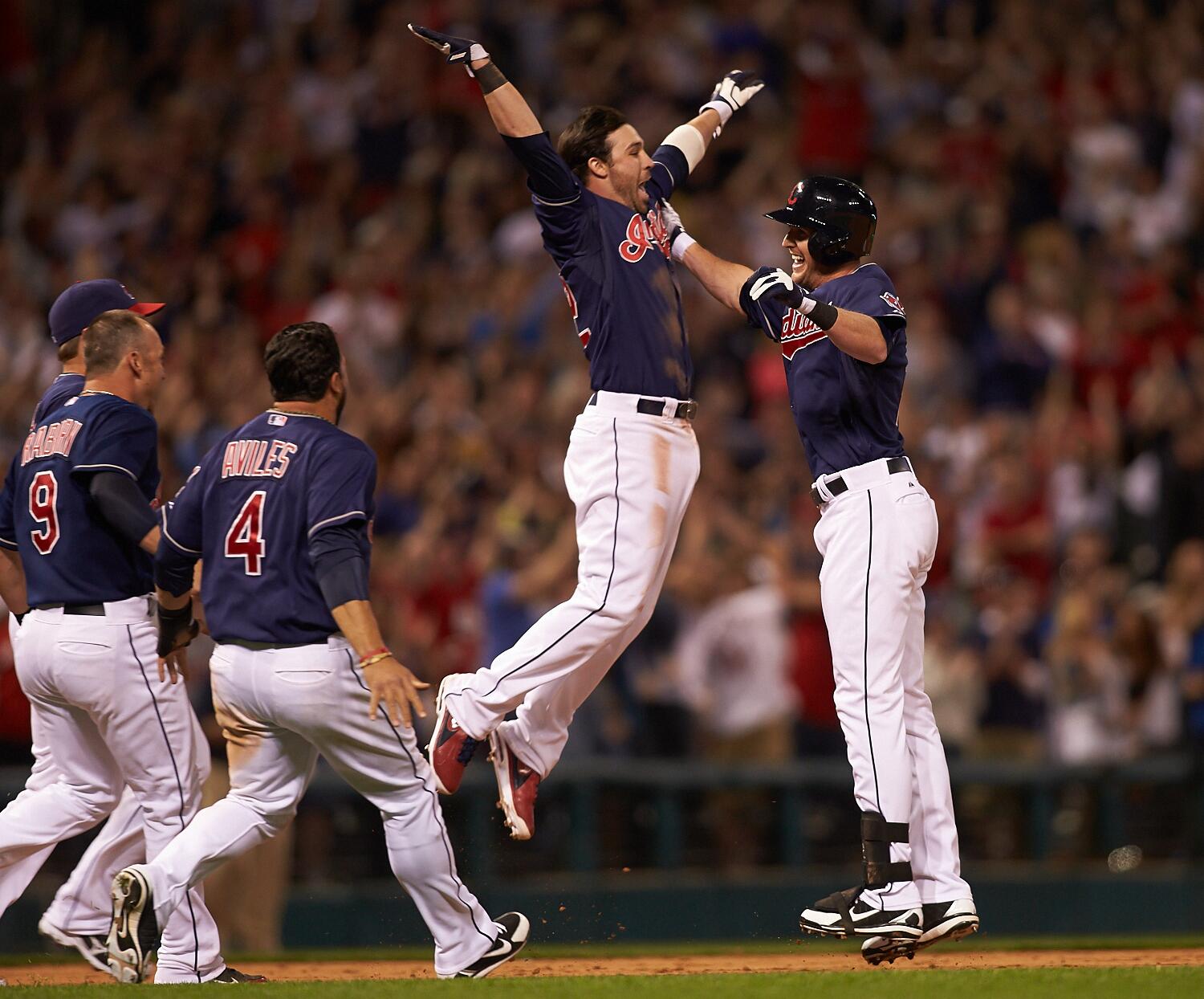 WAHOOOOOO!
So, sort of quieted today were Asdrubal (0-5, ended his hitting streak at 10), Santana ("only" 1-5, but still leading the league in average) and golden boy Ryan Raburn. Poor Raburn! Such a showing and then nothing! But oh well, there are like 130-some more chances for him to wow us.
Mark Reynolds homered today, because that how Mark Reynolds do! It was a 2-run dinger with 2 outs to break the tie and put us 2 runs ahead. Awesome! With his walk, he went 1 for 4 on the night.
Mike Aviles was randomly in the game today, this time at 3rd because he played somewhere else yesterday. This was his 5th game in a row (probably his 4th different position!) and he was HOT tonight, going 3 for 4 with a walk and coming in to score 2 runs. No sac flies for this guy tonight!
Yan Gomes was the catcher and he went 1 for 2 with a walk and came in to score 2 runs. Then uhm...they took him out and put Santana at catcher and put their DH (Reynolds) at first. So then the pitchers all got put in the lineup. Well, after Jason Giambi first came in to pinch hit for Gomes in the 8th and aaaaaaaaaaaaalmost hit a 2-run homer but not quite.
None of the pitchers actually got to bat, which is good because tonight was not the time for seeing if it'd be fun to bat. You know who did come up in the 10th with the score tied and a man on first? I swear we've seen this a couple times before but it was Ezequiel Carrera! He was picked up from us by the Phillies and we played the Phillies this week and now he's back on our team. Whatever! I like him, he's just not consistent. He IS the absolute best guy in a clutch bunting situation. I don't know who else they could have brought in that would have been remotely close!
Anyway he got the bunt down and of
course almost was safe at first
, but not quite this time. He got the job done, though, getting the runner to second and into scoring position with one out. That's baseball!
Next up was DREW STUBBS, who I assert has been very reliable this year. More reliable than most 9-hole hitters. He's hitting .284, yaknow. You know what he did today? He went 4 for 5 with 3 doubles. Move over Ryan Raburn! We've got a new headliner tonight!
Stubbs only scored 1 run off his 3 doubles, and only got 1 RBI, but it was the
game winning
RBI! Once Aviles was on second in the 10th, Stubbs hit his final double waaaaaay off the top of the center field wall. Walk-off double, lots and lots of beating the heck out of Drew Stubbs in the center of the field. Love it!
So that's 5 games in a row now, and 7 night games and 7 night games we've won with help from Meryl Masterson. Tomorrow will be her third day game - do you think she can pull it off?
I'll be there tomorrow, with some folks I haven't seen since like 1999 and their kids (who I have never met), and my best friends and their kid who is going to his second game ever! Here's the
recap of his first game
, in the Hargrove Suite. Speaking of Grover, I Tweeted him today via the @IndiansRadio account, as he was the guest broadcaster today:
@indiansradio Grover, the baby who spent his 1st ballgame in ur suite at 3wks old in 2011 is going to his 2nd official game tmrw! Now 20mos.
— The Positive Tribe (@positivetribe) May 4, 2013
I hope he got it! We keep meaning to send something to him and Sharon to show them how he's grown up (and yep, get invited back) but we haven't yet. Hopefully tomorrow will be picture-ful.
Anyway, so, Hargrove was in the booth tonight because Hammy's on leave for a bit, as his father died this week. Maaaaan....how sad. His dad was a bit younger than my grandpa, who died a month ago. You gotta imagine his dad was a swell guy. He had 15 grandkids! So, that really sucks for him and I'm sure we all wish them the best.
No radio chatter today, though.
Tomorrow's game is at 1:05, Scott Kazmir versus RHP 2.23. Some dude that's been in the NL forever. Funny, tonight Hargrove said "I'd rather be facing a young guy like this that nobody's ever seen than a veteran from the National League that we've never seen." Oops! Hopes it works out better than Grover thinks!
I'll be at the game, I think sans-sign. I won't be able to hold on to it in the bleachers with all my soda pop and my awesome red 1977 replica jersey. JEALOUS?! Only me and 9,999 of my closest friends get them so y'all better get there early. There were over 20k there tonight for Dollar Dog night - I wonder how many they can pull in with a cool giveaway and a 5-game winning streak?
So I will see you there! For real!